Total Drama Island camp survivor show was first introduced back in 2007 by a Canadian network Teletoon. Since then, TD has been continued for 5 more seasons, plus a few spin-offs. The show is the ultimate form of satire aimed at the adult audience despite its cartoon visuals. 
TD has been the source of many memorable characters throughout the years. Each season features a set of unique characters all competing to win the show to the best of their abilities. 
If you've seen at least one season of the show, I'm sure you already have your favorite characters and the ones that you just hate. And, there are characters that you relate to the most as well. 
In this Total Drama quiz, you can find out which of the most popular characters of the series you are. And, depending on your result, you'll know whether you can become the winner of the show! 
Do you already have a character in mind you are hoping to get? Is it someone super cheerful or a bit of a villain? Let's find out! 
Total Drama Characters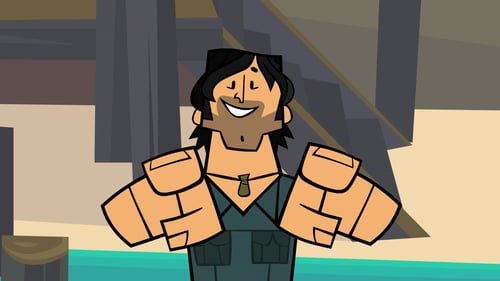 Total Drama Island follows 22 contestants competing in various challenges on a secluded island to win $100,000. Hosted by Chris McLean, the show features friendships, rivalries, alliances, and betrayals. As contestants face gross, dangerous, and hilarious challenges, they are voted off one by one, leading to drama-filled eliminations. Owen wins due to his genuine and friendly nature, forming close bonds. Heather's manipulation and conflicts provide intrigue. Other prominent characters add a bit of spice to the daily challenges as well. The show blends reality TV satire with animation, offering a roller-coaster ride of emotions for contestants and viewers alike.
This Total Drama Quiz features a set a people from season 1 as you've gathered. Among them are:
Gwen 
Gwen is an artistic loner. At first glance, she seem a bit harsh and hostile, but she's a very kind and loyal person in the heart. If you have on your side, you definitely can win the competition. This independent and level-headed girl is the best friend to wish for. 
Heather
Heather adds drama wherever she goes. She is spoiled and, thus, hates failure. She is the ideal antagonist and likes it. Heather is one of the most popular contestants of the show. After all, she agitates and provides drama. 
Izzy 
Izzy embraces the role of "the weird one" and puts on different personas. She can be a bit wild and enjoys nature more than many other contestants. Izzy is an active person with great physical abilities that help her progress in the show. Don't be fooled by her antic, she's quite manipulative! 
Duncan 
Duncan is the rebellious one. Despite having several police officers in his family, he's the epitome of the bad boy. He pulls pranks, speaks truth, and makes fun of people. At the same time, he cares about close people deeply. 
Noah 
Noah has many anti-hero qualities. He is very smart and sarcastic. Noah is lazy and hates doing anything physical, so ensues the intricate manipulation of other contestants. 
About Ira
Introducing Ira, the mastermind behind mind-bending quizzes that defy the norm. With a flair for creativity, she pushes boundaries, challenging our thinking. Her quizzes are a delightful fusion of entertainment and enlightenment, earning her a special place in the hearts of quiz enthusiasts.
---