Death Note is one of the most popular manga and anime series in the world. It has brought many people into the genre as a go-to "beginner-friendly" title. It's often recommended to people new to the whole manga/anime medium as a captivating piece suitable enough for an average viewer. That's why it's one of the most watched anime shows out there. 
And, considering you are here to take this Death Note character quiz, I'm sure you are a fan of it as well. How many times have you watched it? Just admit! Have you read the manga? How about the feature film? Yeah, not the best example, agreed. 
Death Note is full of interesting characters, most of them are highly intelligent, conniving, or have a strong sense of honor and justice. You probably already know whether you are perceptive enough to become a great L or a success Light. Do you think you are up the task? Let's check here! Shall we? 
Death Note Characters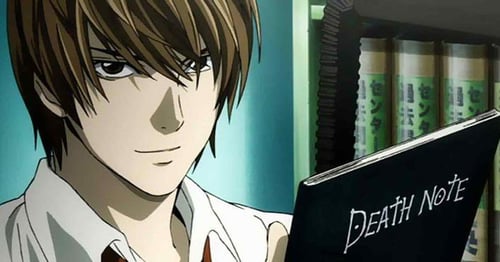 As mentioned before, Death Note is the source of many great characters who fans love, love to hate, admire, and just can't stand. As any good franchise, this one has strong pillars of great storytelling and character building to support its success. 
Interestingly, the rankings of Death Note characters do show a tendency towards certain names. Different ranking list do the ranks themselves differently, but the list of top 10-15 is usually the same, be it a Japanese magazine ranking, a online ranker website, or personal lists by people online. 
All in all, we can all see the tendency of several main and regular secondary characters being beloved by fans. 
And, of course, L and Light are the most beloved. There is absolutely no doubt in it. When it comes to Misa Amane, the views do get a bit different but most consider her a well-written character despite her tragic fate in the story. 
In addition, the shinigamis have won the fan's love even despite being relatively passive for the majority of the story (except several crucial moments where they show extraordinary deeds). 
The younger batch of Light investigators, mainly Near and Mello, do get a credit as well, but remain at the second part of the top 10s. 
Now, no matter what the rankings say, you will get a character in this quiz that suits your personality the most. You won't get Light unless you do have a slight manic tendencies and a distorted sense of justice/power cravings. Or, who knows, maybe you are? 
Death Note Character Quiz 
Now, in about 5 minutes, you will find out what Death Note character you really are. Imagine being transferred in the Death Note Japan, wou;d you become villain or a hero? Would be in possession of The Death Note ever?
You will have to check this 20 personal questions and try to answer them as genuinely as you can. Your honesty will determine how accurate the result is. So, try to open up and show your true feelings and habits! 
About Ira
Introducing Ira, the mastermind behind mind-bending quizzes that defy the norm. With a flair for creativity, she pushes boundaries, challenging our thinking. Her quizzes are a delightful fusion of entertainment and enlightenment, earning her a special place in the hearts of quiz enthusiasts.
---