Are you tired of looking at your closet full of clothes and feeling like you have nothing to wear? Do you ever wish you could confidently rock a fashion style that truly reflects your personality? Well, I've been there too! But fear not, because I've found the perfect solution for all your style woes. 


Introducing the 7 Kitchener Essence Style Test - a fun and easy way to discover your unique fashion essence. Get ready to unlock your true style potential and never struggle with outfit choices again!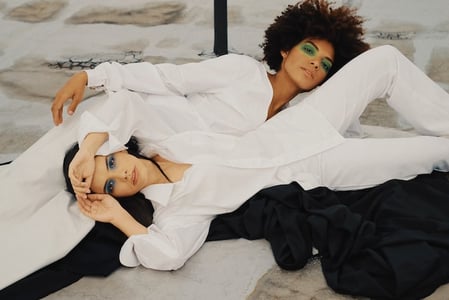 The Kitchener Essence Style Quiz
Mastering your unique style essence allows you to shine and stand out in a crowd. This is not just about following the latest fashion trends, but also about expressing your personality through your clothes.


The key is knowing which style essence fits you perfectly. It goes beyond just dressing; it's identifying with clothing lines that match with your Kibbe Body Type for optimal appeal.


Unveiling our style personalities can be an enlightening journey. Thanks to the Kitchener Essence Style Quiz, this self-discovery process is simplified. This quiz digs deep into your fashion inclinations and brings out your unique style essence.


A myriad of factors such as body type, color preferences, and personality traits contribute to your signature essence analyzed through this tool. Of course, it's not just about identifying the 7 distinct style essences - you'll also learn how to dress according to yours.


So go ahead, take the plunge into a world of personalized fashion aesthetics!


The 7 Style Essences
Discover the 7 unique style essences that can help you define your fashion identity and unleash your personal style. Curious to know more? Here are the 7 Kitchener Essences:


Dramatic
Dramatic Essence gravitates towards edgy designs with exaggerated lines and asymmetry. Animal prints are its friendly allies in creating a stand-out look. This eccentric expression of individuality resonates with pushing boundaries in style preferences.


Gamine
Gamine fashion isn't afraid to be different. It's synonymous with nonconformist attitudes, pushing boundaries, and celebrating the freedom to express themselves unlike any other style essence out there.


Adding a distinctive edge to every ensemble they put on, Gamines truly embody playfulness while also commanding attention with their quirky yet edgy looks. 


Natural
The Natural style represents a laid-back and unpretentious approach to fashion, embracing an effortless and relaxed aesthetic. Those who identify with the Natural essence value comfort and authenticity in their clothing choices.


Classic
It is characterized by a timeless and elegant style that never goes out of fashion. This style is always sophisticated and exudes an air of elegance. In terms of fashion, dressing for your Classic Essence means choosing timeless pieces in neutral colors like black, white, navy, or beige.


Romantic
The Romantic style essence has maximum femininity. It loves curves and can enhance your natural beauty. It is all about delicate and sensual yin – pastel colors, soft flowing materials, and graceful, tender lines. 


Ingenue
The Ingenue style essence is all about that youthful and delicate appearance. It's like a mix of soft Romantic with a bit of playful and fresh Gamine. If you have wide-apart eyes and a fresh-faced look, then you might just be an Ingenue. So go ahead and let your sweet and innocent side shine through in your fashion choices!


Angelic
The Angelic style essence is the seventh essence in Kitchener's 7 Style Essences. It is also known as the Ethereal essence. People with this style have a graceful and delicate appearance, giving off an air of serenity and femininity.
How Does the Quiz Work?
The Kitchener Essence Style Quiz is a 20-question test that examines your personality traits, habits, and personal style. It's designed to help you discover which of the seven style essences best suits you.


It analyzes your personality traits, habits, and fashion preferences to help you discover your unique style essence. By assessing factors such as body type, color preferences, and individual proportions, the quiz determines which of the 7 style essences suits you best.


So go ahead, take the quiz, and unlock your true fashion potential!


About Ana
Hi, quiz lovers! I'm Ana, and I can't imagine my morning coffee without scrolling new quizzes. So I started writing them. Eleanor Roosevelt once said, "I think, at a child's birth, if a mother could ask a fairy godmother to endow it with the most useful gift, that gift should be curiosity." I'm sure that curiosity is our most powerful tool to learn the world around us and inside us. And quizzes are the most curious way to learn a bit of everything. So don't waste your time. Pick a quiz, and let's find out your today's score!
---